Delivery is not just a convenience when you go shopping. It can also help you save time if you want to send something to someone. Regardless if you need it delivered urgently or your recipient can afford to wait for a while, delivery services offers options that can suit your needs. Aside from saving time, delivery also allows you to save your effort from doing it yourself. Suppose you need to send a package to a relative in another state, instead of doing the drive yourself, you can have it delivered instead. Given these benefits, here's a cheat sheet of the different modes of delivery services, so you can choose which one is best for your needs:
Bicycle or Motorcycle
Bicycle and motorcycle delivery can send small items, such as envelopes and food packages. It's a common delivery method in urban areas because it's fast and doesn't require a lot of space. This type of delivery is often used for restaurant deliveries, such as when you order food delivered to your home. But it can also be used for other items, such as flowers or documents. These couriers can often easily navigate tight spaces and traffic congestion, making them the perfect choice for busy cities. For example, if an important document needs to be sent, you can have it delivered by a bicycle courier so you can be sure it arrives on time.
Vans
Van delivery is a popular mode of delivery for businesses. It's a versatile option that can accommodate small and large items, from parcels to medium-sized boxes. Vans can also be used for local or long-distance deliveries, making them a versatile option for businesses. For example, if you need to send a box of beauty product orders for a customer, you can have it delivered by van. This way, you can be sure that it will arrive safely and on time.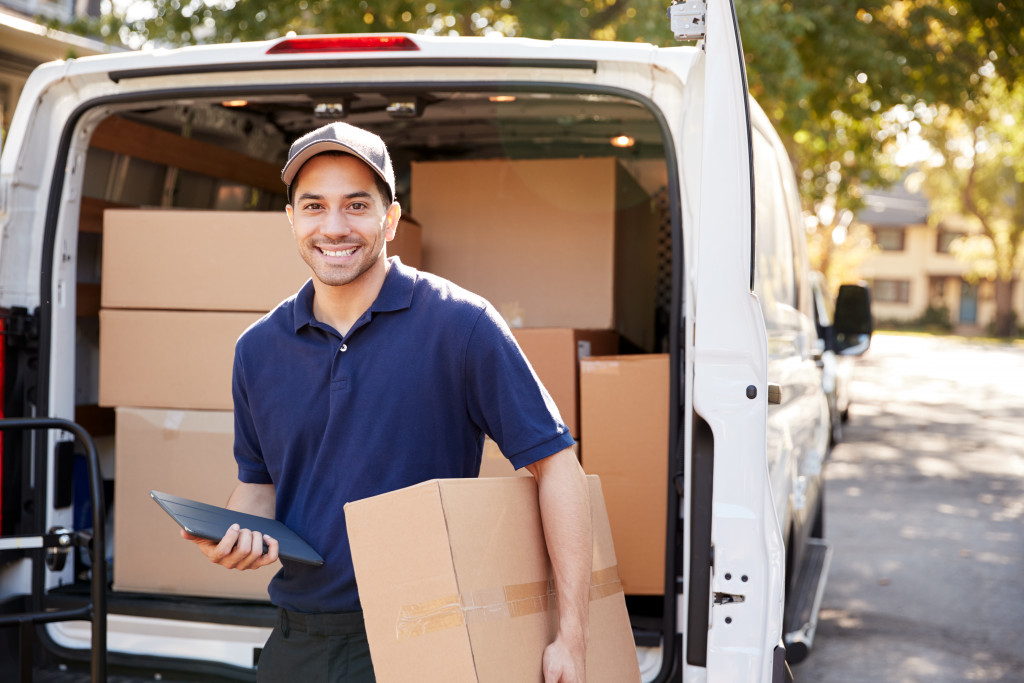 Trucks
Truck delivery is a popular option for businesses transporting larger items. Furniture, appliances, and other large boxes and packages can be easily transported using a truck. This mode of delivery is often used for business-to-business transactions, as it is a reliable and efficient way to move supplies in bulk. For example, if your grocery store needs to stock up on meat products, these items will likely be delivered by a truck that also regulates its temperature to ensure the freshness of the products. They are also commonly used by homeowners transporting all their belongings for a move.
Carrier Trailers
Carrier trailers are often used when transporting large items. It's specifically designed to hold large items and is pulled by a truck. Different types of trailers include open trailers, closed trailers, and flatbed trailers. And can accommodate items such as cars, boats, or even heavy equipment. Among these, cars are more often transported in bulk by the same carrier and can take long-distance trips. For instance, suppose you must bring your car across the state for a race. In this case, you can hire a reputable open transport car shipping service that can provide you with an estimate and get your car to its destination safely. They will also give you a tracking number so that you can see where your car is at all times, which will help put your mind at ease.
Air vs. Ocean Freight
Air and ocean freight are two main methods for transporting items across international borders. Both methods are ultimately designed to move large quantities of items quickly and efficiently. They must also undergo customs procedures upon arrival in their destination country, which can add time and complexity to importing or exporting goods.
Air freight is the more popular option for transporting items internationally. It is faster than ocean freight and can reach more destinations. However, air freight is also more expensive and may limit what type of cargo you can send via air. This includes items that might be flammable, corrosive or toxic items, magnetic items, or gases.
Ocean freight is slower than air freight but can transport items that might be dangerous or hazardous. It is also generally cheaper than air freight. However, ocean freight can take weeks or even months to reach its destination, which might not be ideal for some items. Hence, it is important to weigh each option's pros and cons before deciding which transportation method to use.
The best way to ensure that your items or goods arrive at their destination safely and on time is to carefully consider your transportation options. By knowing what to expect, you can avoid potential problems and choose the right delivery method for your needs.